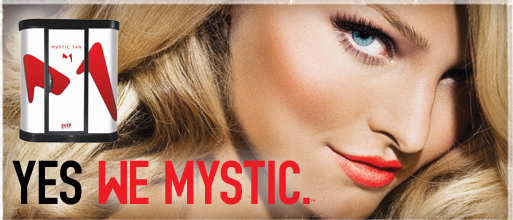 Introducing Mystic HD Spray Tan
A totally automated spray tanning booth, designed to give you a perfectly applied, flawless tan in minutes.
Only $29 for one session which will give you incredible colour for 5-7 days!
NOW INTRODUCING ORGANIC MYSTIC TAN!  NOW AVAILABLE!
Or enjoy Unlimited Spray Tanning for only $59 per month!
How to get the perfect spray tan!
First You pick your shade – Light – Medium – Dark
Next decide if you want an instant colour with an instant bronzer add on ($5)
Then decide if you'd like an accelerator.  This is like liquid skin care.  It will moisturize your skin, balance the pH levels to ensure a more even application, and will even speed up the development time if you're in a hurry. ($8)
Then decide if you'd like to add a fresh or vanilla scent to your spray ($3)
Getting Ready for your spray tan
For the best tanning results follow these guidelines:
• Ensure you have clean skin prior to your session and no makeup.
• Shower but do not put on any creams or moisturizers
• Exfoliate your skin
• If you tan prior, DO NOT use a silicone based lotion, use a "double dip" lotion.
• Wear loose dark clothing.  The solution will not stain clothing, but no sense in taking chances right?
• Watch the video below so you know what to expect, but don't worry, our staff will give you a thorough explanation of all steps prior to your session.
• After your spray, avoid showering, sweating, or getting wet for at least 6-8 hours.
• To help your spray tan last longer, ensure you are moisturizing regularly.